Bendigo
Victoria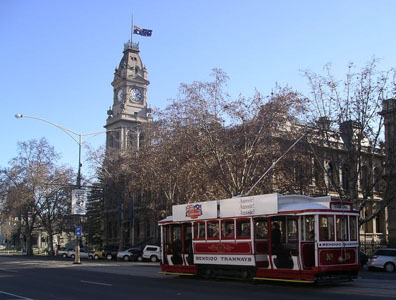 The historic court house in Bendigo, Australia, with the Bendigo Talking Tram in the foreground



Bendigo, 140 km north of Melbourne, is a large town central Victoria that used to be one of Australia's wealthiest gold-mining towns. When you walk its streets, you can still view many magnificent Victoria era buildings that were paid for by the wealth that gold brought.

Gold was discovered in Bendigo in the early 1850s. At first surface and alluvial gold was easy to find. Thousands of diggers swarmed to Bendigo to try their luck. From 1854 thousands of Chinese miners also arrived.

By the 1860s the only gold left was deep in the earth and the big mining companies started reef mining for gold. This enormously profitable industry lasted until the 1950s.

Some interesting places to visit in Bendigo are:
-- Golden Dragon Museum
-- Central Deborah Mine
-- Chinese Joss House
-- Bendigo Talking Tram
-- Bendigo Tram Museum
-- Bendigo Art Gallery
-- Dudley House, Shamrock Hotel, Sacred Heart Cathedral, and other Victoria era buildings.