Great Barrier Reef
Queensland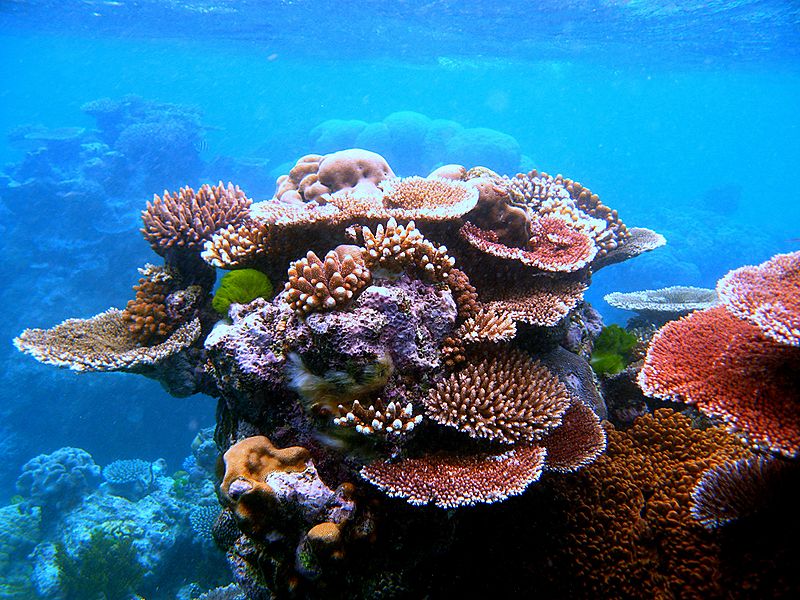 The glorious colored corals at Flynn Reef (near Cairns), part of the Great Barrier Reef
(Photo: Toby Hudson)


The Great Barrier Reef is one of the world's greatest natural wonders -- a beautiful, multicolored world of marine life that extends for 2300 kilometers along the coast of Queensland. The whole of the Great Barrier Reef has been recognized by Unesco as a World Heritage Site and large sections of the Reef have been included by the Australian government in the Great Barrier Reef Marine Park.

The Great Barrier Reef starts out near the southern Queensland city of Bundaberg and extends right through to the Torres Strait at the northern tip of Queensland.

In some places (such as Mackay) the reef is around 200 km from the mainland; elsewhere (such as at Cairns), it runs closer to the coast and can be just 50 km out.

In its southern reaches the Great Barrier Reef is fairly continuous, unified and narrow; in the northern reaches, it is broken and disconnect and also broader (up to 80 km wide).

What is the Great Barrier Reef?

The Great Barrier Reef is a living organism (in fact, it is the world's largest living organism). It is built up by simple organisms called coral polyps, which grow together in huge colonies (which we call corals). The corals provide food and shelter for the huge variety of animals which live there -- fish, rays, turtles, snails, and many more.

Types of Reef

These include:
-- Fringing Reefs
-- Barrier Reefs
-- Coral Cays
-- Ribbon Reefs
-- Platform Reefs
-- Patch Reefs

Reef Inhabitants

These include hundreds of thousands of species of animals, including: corals; fish; molluscs; echinoderms; sponges; worms; crustaceans; dugongs; humpback whales; sea birds; and sea turtles



Green sea turtle swimming at the Great Barrier Reef
(Photo: Nize)



Enemies of the Reef

Enemies of the Great Barrier Reef include chemical waste from farms, towns and cities; and the crown-of-thorns starfish.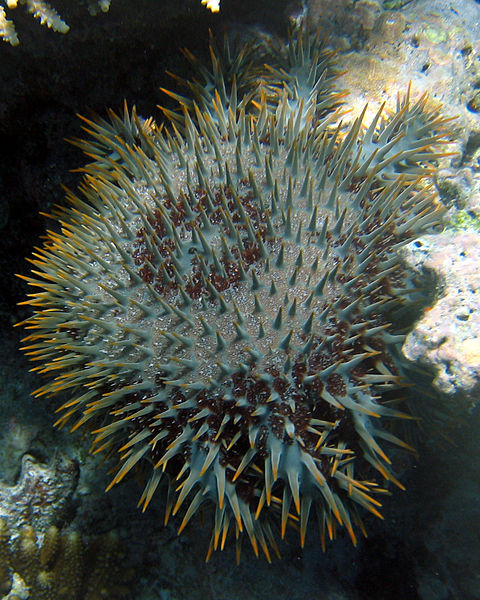 The crown-of-thorns starfish
(Photo: Matt Wright)


Hazards of the Reef

Shark; scorpion fish; stonefish; box jelly fish (during certain seasons); "sea wasp" (actually not a wasp but a kind of jellyfish); blue-ringed octopus; ray.

Cuts and wounds can easily become infected if not treated promptly.

How to View the Reef

Diving; snorkelling; glass-bottomed boats; semi-submersible boats ("subs"); underwater observatories.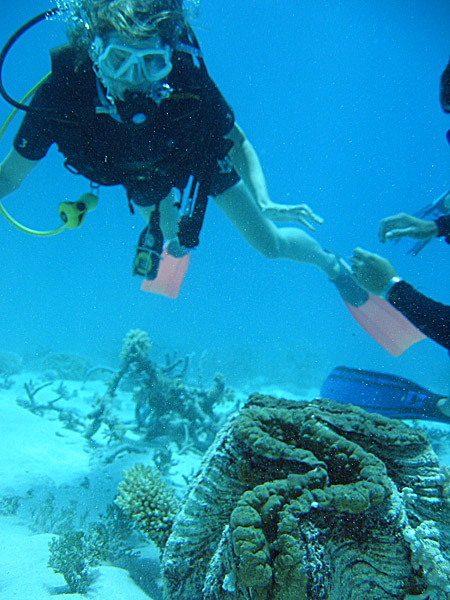 Scuba divers looking at a giant clam on the Great Barrier Reef



Islands of the Great Barrier Reef

A list of principal islands from south to north:

Lady Eliot Island -- near Bundaberg
Lady Musgrave Island -- near Bundaberg
Heron Island -- near Gladstone
Great Keppel Island -- near Rockhampton
Brampton Island -- near Mackay
Lindeman Island -- near Airlie Beach
Hamilton Island -- near Airlie Beach
Whitsunday Island -- near Airlie Beach
Hayman Island -- near Airlie Beach
Magnetic Island -- near Townsville
Hinchinbrook Island -- near Cardwell
Dunk Island -- near Mission Beach
Green Island -- near Cairns
Fitzroy Island -- near Cairns
Lizard Green Island -- near Cairns