Great Ocean Road
Victoria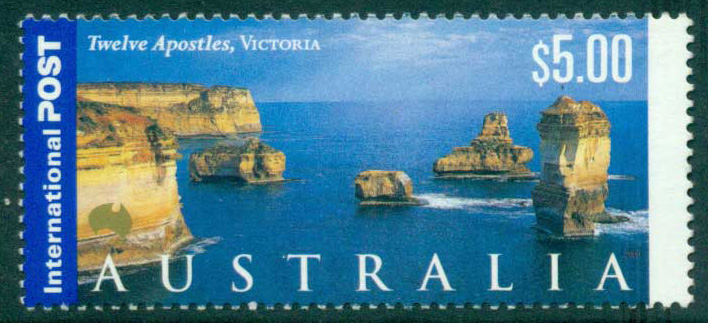 The Twelve Apostles, one of the scenic vistas along the Great Ocean Road.
(Image: postage stamp issued in Australia, 2000)



The Great Ocean Road is a stretch of road -- 243 km (151 miles) long -- that runs between Torquay and Warrnambool in the southwest of Victoria, Australia. It is a very popular tourist destination, with the road winding along many scenic areas, including the Twelve Apostles limestone formations, Lorne, Bells Beach and Apollo Bay.

A Little History

The Great Ocean Road was constructed between 1919 and 1935 by approximately 3,000 returned soldiers from the First World War. Apart from being a job creation scheme for the returning troops (which helped them through the jobless years of the Great Depression), the project aimed at providing access through what was then rugged wilderness country to the isolated towns and fishing ports on the coast (which previously could only be reached by boat) and providing transport links for the timber and other industries.

The Road was dedicated as a War Memorial to the memory of comrades who fell in that War and, being a long road, is in fact the world's largest war memorial.

Tourism

"A drive along the Great Ocean Road is Victoria's favourite tourism experience", according to the Victoria 101 online survey, conducted by the Royal Automobile Club of Victoria (Courier Mail, September 29, 2008).

The Great Ocean Road follows the coast (often known as the Shipwreck Coast because of 80 ships which have sunk there over the years) and affords visitors excellent views across the Bass Strait and the Southern Ocean.

Starting out from Torquay (near Geelong), the road follows a generally southwesterly direction via the resorts of Anglesea, Lorne, Apollo Bay and Port Campbell, and finally ends at Allansford, near Warrnambool.

Interesting natural features include temperate rainforests (for example, the Great Otway National Park), picturesque sandy beaches, cliffs and impressive sandstone/limestone formations such as Loch Ard Gorge, The Grotto, London Arch, and The Twelve Apostles.

One of the beaches it follows is Bells Beach, in Torquay, world famous for its surf. Bells Beach was the location for the 1966 documentary film, The Endless Summer. Bells Beach is also the location of the world's longest running surf festival, the Rip Curl Pro Surf and Music Festival (previously known as Bells Beach Surf Classic), which is held every Easter.

Since 2005, a 45 km section of the Road between Lorne and Apollo Bay has been used annually for the Great Ocean Road Marathon.

In 2004, the Great Ocean Walk, a section of 104 km of walking trails which follow the coast and the Great Ocean Road from Apollo Bay to The Twelve Apostles, was opened.