Monkey Mia is a small settlement in the Shark Bay area of Western Australia. Monkey Mia is famous for the group of bottlenose dolphins that swims in almost every day to visit the humans there and get a free feed. This has been happening since the 1960s when a fisherman and his wife began feeding some of their catch to local dolphins, and since then the dolphin feeding has become a great tourist attraction.

Getting to Monkey Mia

As you drive in from the North West Coastal Highway, you will be able to visit Hamelin Pool, with its colony of stromatolites (cauliflower-lookalike domes of microbes which trap sediment and release oxygen and which are descendants of some of the oldest forms on the earth) and the Old Telegraph Station.

Further on, you will see Shell Beach, a beach composed of millions of tiny shells, and Eagle Bluff, where you will have a great cliff top view of Freycinet Reach (also known as the Freycinet Estuary) and maybe catch a view of some dolphins, dugongs and manta rays.

Then you will pass through Denham, the main population center of Shark Bay. Denham is located just 25 kilometers from Monkey Mia and makes its money from prawning and tourism.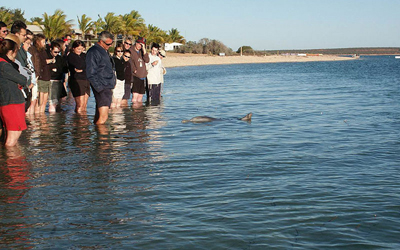 Dolphin feeding at Monkey Mia, Western Australia
Photo: Nachoman-au



Monkey Mia

Finally, you will arrive at Monkey Mia. The first thing many people do is visit the Dolphin Information Centre (open 7 days a week, 7.30am-4pm), where they watch a video on the history of Monkey Mia and its dolphins from the 1960s through to the present.

The "town" of Monkey Mia is really just a big camping ground offering caravan accommodation, safari tents and motel rooms (the Monkey Mia Dolphin Resort), a few houses, a pretty beach and a jetty. There are just a few places to buy food in Monkey Mia. Many visitors choose to stay in Denham, especially during the crowded school holiday seasons.





Meeting the Dolphins of Monkey Mia

These days typically up to seven dolphins come in to the shore on most days, mostly between 8am and 1pm. You will be allowed to wade knee-deep into the water where the dolphins come, but under the strict supervision of a ranger.

You must obey the ranger's rules strictly -- no swimming or boats are permitted, do not chase, scare or shout at the dolphins, just pat their sides (not their fins, head or blowhole) with the back of your hands. The ranger will normally be the one to feed fish to the dolphins, though sometimes one or two members of the public will be allowed to feed the dolphins too. Only a strictly limited amount of fish is fed to the dolphins and only female dolphins are fed.

Some interesting tours are available, including dugong-watching, sunset and wildlife cruises. Other tours will take you to the pearl farm at Red Bluff. And Monkey Scenic Flights offers a selection of flights over Shark Bay.