Mornington Peninsula
Victoria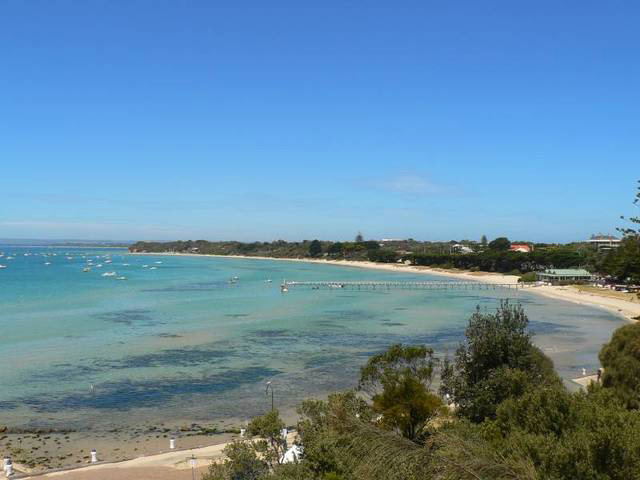 Sorrento Beach, Mornington Peninsula, near Melbourne, Victoria



Mornington Peninsula is a long spit of land located to the southeast and south of Melbourne. Featuring many windswept beaches and rocky cliff formations, the Peninsula curves down the eastern side of Port Phillip Bay and ends at the Rips, the opening of Port Phillip Bay (the other side of the opening are the Bellarine Peninsula and its main town, Queenscliff).

Some parts of the Mornington Peninsula (such as Sorrento and Portsea) are holiday resorts for the rich and weekend and holiday getaways for Melbourners. Part of the Mornington Peninsula is been dedicated as a national park, the Mornington Peninsula National Park. Other parts of the Peninsula are used as vineyards.

To get to the Mornington Peninsula, you first take public transport or car to Frankston. A little further on are the villages of Mornington and Mt Martha, which have excellent beaches and some old buildings such as the Briars, a homestead (a National Trust property) from the 1850s in Mt Martha.

After that you pass by Dromana and Arthur's Seat (with Arthur's Seat State Park and the Arthur's Seat Maze), before arriving at Sorrento and Portsea.

At Sorrento and beyond, there are both rugged surf beaches facing the ocean (the "back beaches") and quieter beaches (the "front beaches") facing Port Phillip Bay. Dolphins and seals may be often seen off the front beaches.

Sorrento is one of the playgrounds of the rich which you can see evidenced by opulent mansions, broad treelined streets and loads of restaurants, art galleries and antique shops. Nearby Sullivan Bay is the site of the first attempt at European settlement in Victoria (it lasted just four months).

A little further on after Sorrento is Portsea, a popular location for diving and windsurfing. Some local attractions include the rock formation called the London Bridge and a lookout called the Mt Levy Lookout.

At the very end of the Mornington Peninsula is Point Nepean. Formerly an army base and a quarantine center and so mostly off limits to the general public, it is now been opened up to the public as the Point Nepean National Park.

This Park contains Cheviot Beach, where in 1967 the Australian Prime Minister, Harold Holt, went diving and went missing, presumed drowned. His body was never recovered.

The southern/eastern coast of the Mornington Peninsula is known as the Ocean Coast. It faces Bass Strait and Western Port. It features many walking tracks, a lighthouse at Cape Schank, several towns such as Hastings and Flinders, and, off shore, a small, mostly uninhabited island called French Island (mostly known for its wildlife, such as its koala colony).