Share this page:

This city of cathedrals and green parklands is surrounded by the Mt Lofty Ranges on one side and the sea on the other.

Some of the tourist attractions of Adelaide include:

Imposing nineteenth century buildings: The Adelaide Town Hall, Government House, Holy Trinity Church, St Peter's Cathedral, the Ayers Historic House, and Edmund Wright House all remind us of the grand heritage and old money that Adelaide was built on.

Adelaide Festival Centre: Set in a beautiful riverside setting, this building is the base for the culturally heavyweight events of the biennial Adelaide Festival of Arts. This Festival which goes for three weeks and features drama, dance, music, poetry readings, art exhibitions and a Writers' Week, with many of the performers and speakers coming from overseas.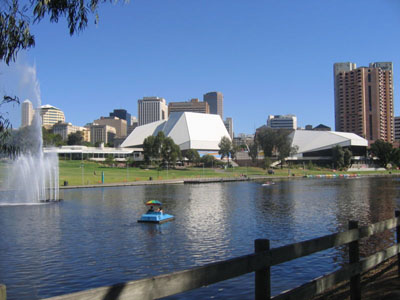 The Adelaide Festival Centre and Hyatt Hotel by the Torrens River, Adelaide



South Australian Museum: This museum is an important natural history museum and has an excellent display on the Aboriginal people of the lower Murray and Coorong.

Migration Museum: A unique museum devoted to the people from many countries who have come to live in Australia and create our multicultural way of life.

South Australian Maritime Museum: This museum has several vintage ships, including the Motor Vessel Nelcebee, a steamship constructed in 1883 (it is the oldest surviving ocean-going vessel in Australia). Other interesting items include an antique lighthouse.

Glenelg: Take a tram out to Glenelg and then relax on the white sandy beach (this is Adelaide's most popular beach) or go sailboarding.

Adelaide Botanic Garden: This 20 hectare garden has a historic palm house (1877) and a Bicentennial Conservatory with a tropical rainforest environment for you to explore.





Early Days of South Australia

The Australian Aborigines have occupied South Australia for tens of thousands of years. There are Aboriginal rock carvings near Olary, SA, dating back 43,000 years.

The first European navigators to visit South Australia were the Dutch (1627), followed by the French (1792) and finally by the British (1800). Matthew Flinders charted the coastline of SA during his circumnavigation of Australia in 1801-03.

In 1829, the English explorer, Captain Charles Sturt, discovered the Murray River and explored the site of present-day Adelaide, which he praised as an excellent site for a future settlement. "in whose valleys the exile might hope to build for himself and for his family a peaceful and prosperous home."

A group of British colonial reformers, the National Colonisation Society, proposed creating a settlement in South Australia -- without convicts (unlike all of the other British colonies in Australia). A colony was set up at Kangaroo Island in 1836 and later that year was transferred to Glenelg, part of present-day Adelaide.

Many Adelaide residents are proud of their non-convict origins. On that subject Sir Thomas Playford [1], a former Premier of South Australia, had this to say:

"Adelaide takes a lot of pride in the purity of its origins. This was not a penal settlement, so there were never any convicts here. No Irish settlers ever came here and there was no invasion of American servicemen to corrupt us during the war, You see, Adelaide was founded by, and is still run by, a lot of religious Scotsmen -- when I said that to an American visitor, he interrupted me with, 'Good God, not as bad as that!' "


Share this page:





Footnote
[1] Quoted in: Jonathan Aitken, Land of Fortune. 1971.


Author: David Paul Wagner
(David Paul Wagner on Google+)