Barossa Valley
South Australia



Share this page:

The Barossa Valley, reached by an easy one hour's drive from Adelaide, is a beautiful alley (about 40 km in length) of green and rolling hills with dozens of vineyards that have been producing quality wines for a century and a half.

The vineyards were originally founded by German immigrants to South Australia in the 1840s. They were East Prussian Lutherans fleeing religious persecution in their home country. After the 1848 revolution in Europe, political refugees came out too.

The German migrants began making wine and today the Barossa Valley vies with the Hunter Valley of New South Wales as the premier wine-producing area of Australia. Some of the Barossa's great wineries include old ones such as Orlando (established 1847), Seppelts (est. 1852), and Yalumba (est. 1858) and some relatively new ones such as Wolf Blass (established 1973).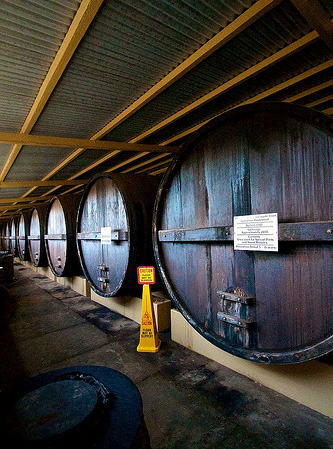 Wine vats at the Seppeltsfield winery



Take a drive around the backroads of Barossa to see some of the quieter, less touristy areas, including some pleasant small towns such as Angaston, Tanunda, Seppeltsfield, Marananga, and Bethany. There are many beautiful old stone cottages, civic buildings and Lutheran churches dotted around the Valley.

A good time to visit the Barossa Valley is in the week beginning with Easter Monday every odd-numbered year: this is when the Vintage Festival occurs. This festival features many activities and a lot of fun, including grape picking and grape crushing contests, tug-o-wars, maypole dancing, brass band concerts, wine tastings and art exhibitions.

Of course, at any time you can go around visiting the various wineries and tasting their wines. Many (but not all) of the wineries are open to the public. Some of them even have guided tours for visitors.

On Saturdays there is an interesting farmers' market at Angaston that is worth a visit.


Share this page:





Author: David Paul Wagner
(David Paul Wagner on Google+)