Share this page:

Located on the meandering Brisbane River, this city enjoys a sub-tropical climate.

Some of the many tourist attractions include:

Historic Buildings: The Treasury Building (now used as a casino), the Parliament House (built in French Renaissance style), the Land Administration Building, the convict-built Commissariat Stores Building, the Mansions (a three-storey terrace), the Queensland Club (with a Greek revival facade) and the copper-domed Customs House are worth a visit.

City Botanic Gardens: Grassy areas with lots of Moreton bay fig trees, macadamia trees and bunya pines. A boardwalk following the edge of the Brisbane River and its mangroves is a really memorable walk.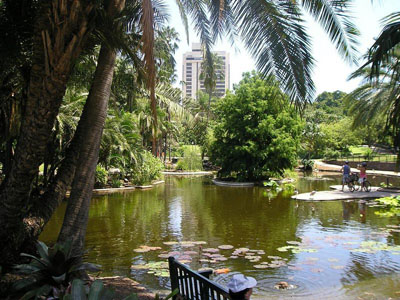 Duckpond at City Botanic Gardens, Brisbane



Queensland Museum: This institution contains sections on dinosaurs and whales, on photography, natural history, aviation history (Bert Hinkler's plane in which he flew the first England to Australia solo flight in 1928), and on Melanesian artefacts.

South Bank Parklands: A magnificent redeveloped riverside area. Originally developed for Expo '88, this area features Paul's Breaka Beach, a Nepali pagoda, a weekend craft and clothing market and an IMAX cinema. Many performances and concerts are held in the Suth Bank Piazza and many of those are free.

Mt Coot-tha Reserve: This park, located on a hill about 15 minutes by bus from Brisbane's CBD, has views over Brisbane, Moreton Bay and the outlying islands. While there, you should also visit the Brisbane Botanic Gardens and the Sir Thomas Brisbane Planetarium.

Lone Pine Koala Sanctuary: Koalas, kangaroos, possums, emus, lyrebirds, wombats and more -- up close and cuddly! You can have your photo taken hugging a koala and you can feed the kangaroos.





History of Brisbane

Brisbane and the state of Queensland have not always enjoyed good press. When the great botanist Sir Joseph Banks sailed along the coast of Queensland with Captain Cook's 1770 expedition of exploration, he wrote in his Journal:

"The country tho in general well enough clothd, appeared in some places bare; it resembled in my imagination the back of a lean Cow, covered in general with long hair, but nevertheless where her scraggy hip bones stuck out farther than they ought, accidental rubs and knocks have intirely bard them of their share of covering."

Brisbane began its life as a penal settlement where the toughest and most recalcitrant convicts from Sydney. The penal settlement was first set up at Redcliffe on Moreton Bay but was abandonned due to Aboriginal hostility and the lack of drinking water and moved to the present site of Brisbane.

Free settlers were allowed to settle in Brisbane from 1842 and the city grew based on the activity of the agricultural and mining industries developing throughout Queensland.

The English novelist, Anthony Trollope, writing in his book, Australia and New Zealand (1873), penned this criticism of the inhabitants of Brisbane and Queensland:

"The subject of heat is of extreme delicacy in Queensland... One does not allude to heat in a host's house any more than to a bad bottle of wine or an ill-cooked joint of meat. You may remark that it is very cool in your friend's verandah... but though you be constrained to keep your handkerchief to your brow, and hardly dare to walk to the garden gate, you must never complain of the heat then and there."

For many years Brisbane was regarded by southerners (people from New South Wales and Victoria) as just a large country town. Then, in the 1980s it was host to large world-class events such as the Commonwealth Games and Expo88. These days Brisbane is Australia's third largest city with a wonderful parkland, and vibrant multicultural culture and a cafe and restaurant scene.





Share this page:


Author: David Paul Wagner
(David Paul Wagner on Google+)