Share this page:

Located 2 km east of the Sydney CBD, the Sydney suburb of Darlinghurst was originally known as Eastern Hill and Henrietta Town before being given its current name (named after the wife of NSW Governor Darling, with the added word "hurst", an old English word meaning "wooded hill").

In 1800 the area had several windmills for grinding grain.

The area became quite fashionable and some of Sydney's wealthy elite lived there. In 1828-31, NSW Surveyor-General, Sir Thomas Mitchell, built Craigend, a neo-classical mansion with a Greek temple façade, on four hectares of land. Craigend had a frontage onto Victoria Street, and had a windmill, 105 feet high, behind the mansion. The mansion was demolished in 1921 but Craigend Street, Darlinghurst, marks its former location.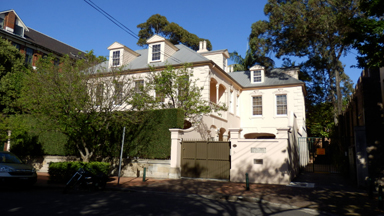 Stoneleigh, 1A Darley Street, Darlinghurst


The Governor of the Bank of New South Wales lived in a small but beautiful mansion called Stoneleigh, located at 1A Darley Street, Darlinghurst. In the 1980s the Australian journalist, writer and broadcaster, Phillip Adams, used to lived in this house. He collected ancient Egyptian antiques and passers by could see Egyptian mummy cases sitting on the balcony on the first floor!

A grimmer aspect came to Darlinghurst with the construction of Darlinghurst Gaol in 1841. Governor Brisbane had reserved 3.5 acres of land in this area for a jail to replace the crowded lock-up in George Street in the city. First, in 1823, a stockade called the Woolloomooloo Stockade, was built on the new site in a dominant position on the top of a hill in Darlinghurst. Then the jail itself was constructed in the years 1836-41 and the prisoners were marched from the George Street lock-up to Darlinghurst Gaol.

Public hangings were held outside the gates of the jail, with the first one – of Robert Hands and John Stroud – taking place there on October 29, 1841.

A famous execution here was that of John Knatchbull who had been convicted of murdering his landlady, Mrs. Jamieson. He was hung before a crowd of 10,000 (which was almost the whole population of Sydney at that date) on February 13, 1844.

Other famous executions here included that of the bushranger Andrew George Scott, also known as "Captain Moonlite"; Thomas and John Clarke, the bushranger brothers from the Shoalhaven area; John Dunn, the bushranger and member of the Ben Hall gang; and Louisa Collins, the last woman to be hung in New South Wales.

Public hangings were later replaced by private hangings inside the jail. The final hanging at Darlinghurst Gaol was held in 1907.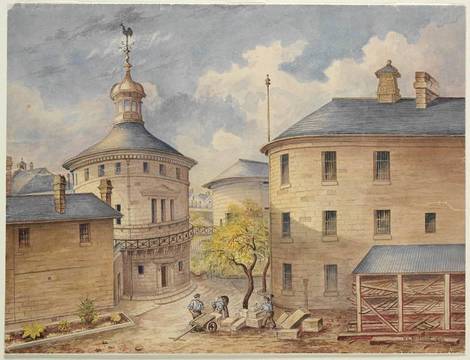 The grounds of Darlinghurst Gaol: a watercolor by inmate Henry Louis Bertrand, 1891



A notable inmate of Darlinghurst Gaol was the famous Australian poet and short story writer, Henry Lawson. He was imprisoned there for drunkenness and non-payment of alimony. Lawson, like other Darlinghurst prisoners, suffered appalling conditions during his confinement. He called the jail "Starvinghurst" and wrote a notable poem on his experiences, entitled One Hundred and Three (which is still definitely worth reading).





The jail ended its life as a penitentiary in 1914 when it began to house German refugees during the First World War.

In 1921 the jail buildings became the location of the East Sydney Technical College and its famous art school. Famous painters and other artists who have studied there include Margaret Olley, John Olsen and Max Dupain.

Attached to Darlinghurst Gaol, a courthouse was built. Prisoners were tried in the courthouse and jailed right next door in Darlinghurst Gaol. The courthouse has a Greek Revival style facade and was designed by architect Mortimer in 1844. Darlinghurst Courthouse still operates today and may be visited when in session.

During the 1920s and 1930s much of Darlinghurst was a slum and it experienced a crime wave, with widespread prostitution, sly grog and gambling. At one time the carrying of guns was prohibited and so criminals began carrying knives and razors instead. As a result the suburb was nicknamed "Razorhurst".

Since the 1950s the suburb has seen the establishment of many coffee shops such as the Coluzzi Bar and the Tropicana. The area has a large gay community centred around Oxford Street.

One of Sydney's largest hospitals is located in Darlinghurst: St Vincent Hospital (along with its private counterpart, St Vincents Private Hospital).


Related Pages

My Darling Darlinghurst blog
Rather starstruck view of Darlinghurst. Excellent images, especially in the posts made in 2010.

My (Not So Darling) Darlinghurst
A gritty account of life in Darlinghurst.


Share this page:





Author: David Paul Wagner
(David Paul Wagner on Google+)