Australia For Visitors > Eden, NSW

Share this page:

Eden is located on the far south coast of New South Wales and is the last major seaside town belfore the main road, the Princes Highway, heads away from the coast and towards the Victorian border 50 km away.

Eden was an early whaling port. Dating from 1818 and located on Twofold Bay, it was in the fact the first whaling station to be established on the Australian mainland. Whaling finally ended in this area in the 1920s when the number of whales greatly diminished.

These days the main economic activities in Eden are fishing and forestry.

There are reminders of the whaling past in the Killer Whale Museum in Eden, where you can see the skeleton of the killer whale, Old Tom, who with the rest of his group of killer whales, used to drive baleen whales into Twofold Bay, where the latter were killed by the whalers. The whalers rewarded the killer whales by allowing them to eat the tongues and the lips of the baleen whales.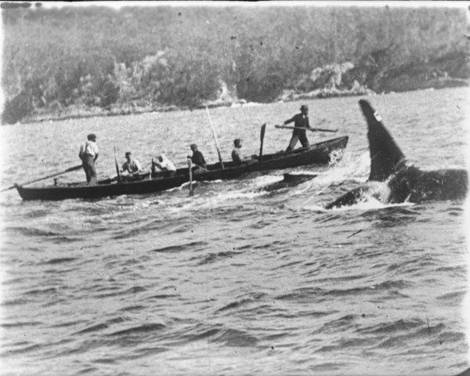 Old Tom swimming along beside a whaling boat in Twofold Bay (still from a documentary movie first screened in 1912)







Whales need no longer fear humans in Australian waters. Instead, whale spotting cruises head out from Eden in October and November -- not to kill whales but to observe and admire them. Penguins and dolphins are also often seen during these cruises.

A few kilometers south of Eden, in the southern corner of Twofold Bay, is Boydtown, a settlement founded by a gung-ho early settler, Benjamin Boyd. He was involved in whaling and had great plans to make Boydtown (modestly named after himself) the capital of Australia. In 1843 he built a church, an inn, houses and a tower called the Boyd Tower (that tower was first used for whale spotting and later was used as a lighthouse).

In 1849 Boyd went bankrupt. He went to try his luck on Californian goldfields -- without success. Then he sailed from San Francisco in his yacht, the Wanderer. On the island of Guadalcanal, he went hunting and disappeared, never to be seen again.

It must be admitted that Boyd was a quite selfish individual. He tried to pay his workers the very minimum possible. For example, wages for his shepherds were set at just 10 pounds a year plus rations (rations were to include meat and bread but not tea or sugar which Boyd regarded as luxuries). He also tried to import dirt cheap labor from the South Pacific islands.

For all of Boyd's grand visions, all that remains today is a semi-ghost town. Boydtown's church and inn still exist and you can stay in the inn, now known as the Sea Horse Inn.

Both to the north and to the south of Eden and Boydtown is another Boyd namesake, the Ben Boyd National Park. It extends along 40 kim of spectacular coastline.


Share this page:





Author: David Paul Wagner
(David Paul Wagner on Google+)