Share this page:

Elizabeth Bay, a Sydney suburb located 3 km east from the CBD, was originally known as Jerrewon and Yarrandabby (both Aboriginal names) before receiving its present name in honor of Elizabeth, the wife of the then Governor of New South Wales, Lachlan Macquarie.

The suburb has magnificent views up Sydney Harbour towards the Heads. It was partly to take advantage of these that the suburb's celebrated mansion, Elizabeth Bay House, was built.

Elizabeth Bay House

Elizabeth Bay House is a Regency-style building that was built by Alexander Macleay (1767-1848), the NSW Colonial Secretary after whom Macleay Street, Potts Point was named. In 1828 he had been granted 54 acres of land by the Government and in 1833 he commissioned the architect John Verge (1782-1861) to design and build Elizabeth Bay House there. Verge's other great designs included Camden Park, Menangle (1835), Denham Court, Ingleburn (1832), Rockwall House, Potts Point (1831–1837), and St Scholastica's College(1831–1900).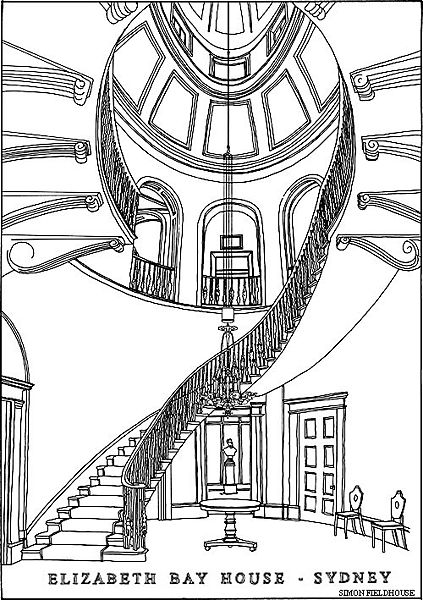 Elizabeth Bay House staircase, designed by John Verge
(Drawing: Simon Fieldhouse)



Elizabeth Bay House was completed in 1837. It was a two storey building. On the first floor was a library with a telescope for studying the Harbour and its marine traffic.

The House was surrounded by splendid gardens with displays of hundreds of varieties of native and exotic plants. These gardens extended from the Elizabeth Bay waterfront right up to where the Fitzroy Gardens, Kings Cross are situated today.

Macleay was an enthusiastic amateur natural historian who kept many specimens along his scientific papers in the House. (Today they are on public view in the Macleay Museum of Natural History at Sydney University.)

After the death of Alexander Macleay's son, George, Elizabeth Bay House's extensive grounds and gardens were subdivided. Today all that remains of the gardens is a tiny park/garden in front of the House.

Elizabeth Bay House has been renovated and may be visited by the general public.

Read more: Alexander Macleay and Elizabeth Bay House

Other Historical Houses

These days the suburb has numerous blocks of flats which dominate the landscape. However, several historical houses still survive in Elizabeth Bay, including Ashton (1875), Tresco (1868) and Boomerang (1926).

Boomerang was built for Frank Albert, a music publisher. It was built in the Hollywood Spanish Mission style. Its interior features rooms with different styles reminiscent of different historical eras. Its gardens feature palm trees, shrubs and fountains. It has tennis courts and a boat house.

Marina Controversy

In 2010 an application has been made to extend the Elizabeth Bay Marina, a move staunchly opposed by locals for the loss of views and peace and quiet.

This ongoing controversy has been reported on here and here.


Share this page:





Author: David Paul Wagner
(David Paul Wagner on Google+)