Share this page:

Fraser Island is the world's largest sand island (about 120 km long by about 15 km wide).

A few small sections of the island are made of rock but otherwise Fraser Island is all sand (mostly covered with vegetation), with numerous sand dunes and about 200 lakes.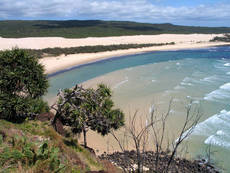 View from Indian Head, Fraser Island
(Photo: Joern Brauns)



Fraser Island was known to its original inhabitants -- the Kabi Aborigines -- as Gurri. The current name of Fraser Island from the wreck on the Queensland coast of of a ship carrying Eliza Fraser and her captain husband in 1836.

Over the years Fraser Island has been greatly exploited by the timber and sandmining industries. In the 1860s timber cutters were cutting down satinay trees, a timber that was highly resistant to marine borer and therefore much in demand to line the Suez Canal being constructed in the period 1859-69.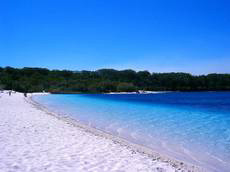 The Beach at Lake McKenzie, Fraser Island
(Photo: Sensenmann)







In recent decades huge battles have been waged over the island's future. In the 1970s a fight between a sand mining company and conservationists, which ultimately the conservationists won. Another battle, this time between loggers and conservationists, finally ended in 1991 with the banning of logging on Fraser Island.

The northern end of Fraser Island was inscribed on the United Nations' World Heritage List in 1993. The rest of the island remains in private hands.

Fraser Island may be seen by 4WD (four wheel drive) vehicle or by walking, by private visits or by group tours. If you are driving, remember access is limited to certain areas and roads and do not forget there that there are no sealed roads on this island.

Remember also that Fraser Island is a ecologically fragile World Heritage area -- so try to leave no footprints, tyre tracks or garbage.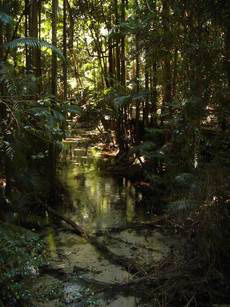 Eli Creek, a freshwater creek runs through rainforest near Central Station
(Photo: Biga1888)



The first stop for many visitors to Fraser Island is Central Station along with Wanggoolba Creek and Pile Valley in the immediate vicinity. From Central Station, you can also visit several nearby lakes -- McKenzie Lake, Birrabeen Lake and Boomajin Lake.

The East Beach part of Fraser Island includes the highly-visited Seventy-Five Mile Beach. Along this beach, places to visit include:
-- Hammerstone Blow
-- Rainbow Gorge
-- Eli Creek
-- the wreck of the S. S. Maheno
-- the Cathedrals
-- Wangul Sandblow





The wreck of the S.S. Maheno on the beach near Eli Creek
(Photo: Joern Brauns, Sep. 2004)



The center of Fraser Island is much less visited than the east cost. Places to visit include:
-- Yidney Scrub
-- Boomerang Lake
-- Allom Lake
-- Bowarrady

The west coast of Fraser Island is quite treacherous for vehicles to visit with its mangrove swamps, holes and soft sand.


Share this page:


Author: David Paul Wagner
(David Paul Wagner on Google+)