Share this page:

Katoomba is a town in the center of the Blue Mountain National Park, a World Heritage area that includes popular attractions such as the Three Sisters, Echo Point, The Giant Stairway and the Jamison Valley.

Located about 110 km west of Sydney, Katoomba is easy for visitors to reach by car or by train (CityRail services depart from Central Station, Sydney, every hour during the day).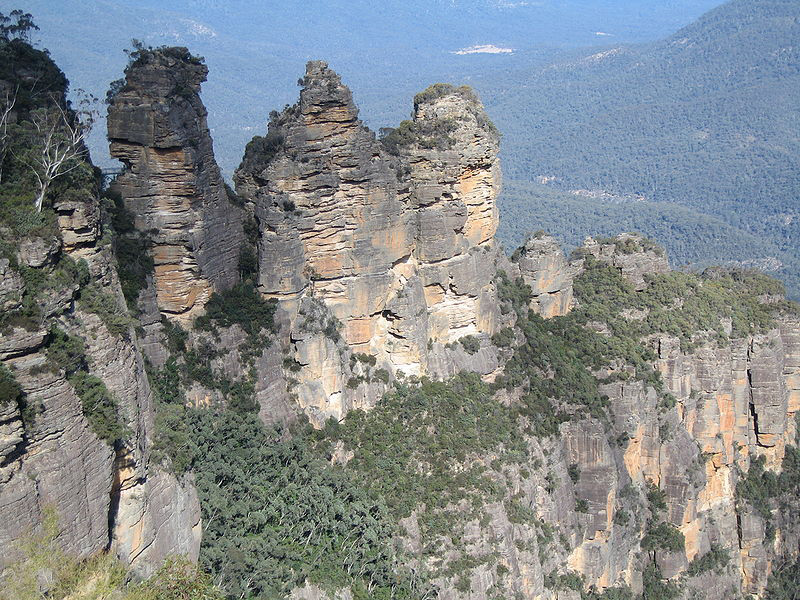 The Three Sisters, Katoomba



Main Tourist Attractions

Katoomba is justly famous for its superb mountain scenery and for its many excellent nature and bush walks in the surrounding Blue Mountains National Park.

About 2 km south of Katoomba's main township is Echo Point, a natural vantage point on the edge of a cliff from where you can see the famous rock formation known as the Three Sisters and, looking in another direction, you can see Mount Solitary and the rock formation called the Ruined Castle.

Nearby, in the commercial Scenic World complex at the end of Violet Street, you take a ride on the Katoomba Skyway, an aerial cable car that takes you for a ride far above the 280-meter-deep Jamison Valley, and another ride on the Scenic Railway, a funicular railway that descends down a vertiginous 45 degree incline and which is claimed to be the steepest railway in the world.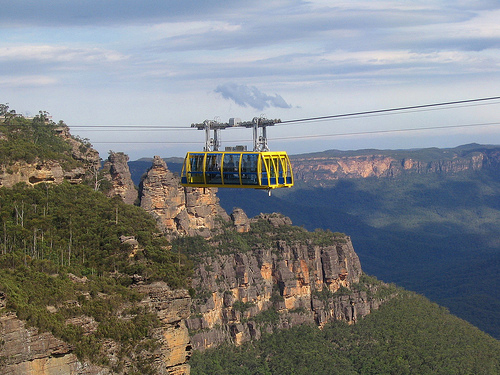 Katoomba Skyway
(Photo: Aschaf)



A short walk along the clifftop from Echo Point brings you to The Giant Stairway, a set of thousands of steps descending very steeply down the side of cliff and which bring you to the floor of Jamison Valley.

On the other side of Katoomba is the Edge Maxvision Cinema where you can see a fantastic introduction to the ecology of the Blue Mountains, including a section on the recently rediscovered Wollemi Pine.




The Three Sisters, Katoomba, with swirling clouds early one morning



Katoomba's Lively Cultural Scene

Katoomba has a lively and somewhat "alternative" arts community. Many writers, artists and environmentalists reside in Katoomba and many academics retire to the Katoomba area. So there is a flourishing arts scene, many buildings from the Art Deco period and lots of great cafes and restaurants, including the famous Paragon Cafe with its handmade chocolates.

You can also visit many antique stores and a number of interesting bookstores selling both new and secondhand books (such as the huge two storey Pickwick Bookshop). Some of the best secondhand and antiquarian bookstores in the Sydney area are found in the Katoomba area where they are able to survive due to the low rents and local interest in books.

Katoomba hosts the well-regarded annual Winter Solstice Festival, which features local singers, art and craft. This festival, founded in 1994, ties in with the celebration of Yulefest in the mountains (European winter style Christmas celebrations during June, July and August each year).





History of Katoomba: a 19th Century Mountain Resort

Katoomba takes its name from a local Aboriginal name, "Kedumba" ( or "Katta-toon-bah") which means "shining falling water" and which originally referred to a waterfall in the nearby Jamison Valley. The area was originally settled by Europeans seeking to exploit its coal and shale, but it was tourism where Katoomba's future was to lie.

Katoomba first attracted the attention of Sydneysiders when the railway line from Sydney was constructed through to that town in 1868. Entrepreneurs were quick to promote Katoomba as a holiday destination offering magnificent mountain views, fresh air and healthy exercise. They built grand hotels in Katoomba such as the Carrington Hotel (which still exists and was recently renovated and remains a wonderful hotel accommodation) and the Belgravia (now known as the Hydro Majestic) in nearby Medlow Bath.

Large numbers of visitors, including many day trippers and weekend visitors, flocked to Katoomba in the late 19th century and the town remains a magnet for local and overseas tourists.

For those on tighter budgets, the town had less glamorous but still comfortable accommodation in guesthouses. Some these guesthouses have been converted to other uses such as nursing homes and convalescent hospitals, but a number remain, such as the Cecil Guesthouse.


Related Pages
Katoomba Real Estate Prices Report


Share this page:





Author: David Paul Wagner
(David Paul Wagner on Google+)