Australia For Visitors > Kimberley, WA
Kimberley
Western Australia




Share this page:

The Kimberley is an area in the far north of Western Australia.

The area was first inhabited by Aborigines around 40,000 years ago.

In 1837 a British expedition, under the leadership of Lt. George Gray and Lt. Franklin Lushington landed at today's Hanover Bay in the Kimberley. Progress was impeded by flooding, the loss of stores and by the presence of many hostile natives, apart from being wrecked, almost drowning, being wounded, and at times being completely lost. But this expedition managed to name the Glenelg River, Steven Range and Mount Lyell before the expedition members were picked up by two schooners in April 1837.

In 1879 Alexander Forest traveled through the Kimberley district – from the coast to modern-day Northern Territory. He gave the Kimberley its name. He discovered the Margaret River, the Ord River, and the King Leopold Ranges.

In 1881 gold was first discovered at various locations in the Kimberley by Philip Saunders and Adam Johns. Sheep farming was introduced to the area in 1883 and in 1885 cattle were driven into the Kimberley area by drovers seeking good pasture land.

In the 1890s the Aborigines, under the leadership of Jandamarra, took up arms in a brief uprising against the white settlers.





Geography

The Kimberley has an area of 423,517 square kilometers (163,521 square miles). Today it has around 41,000 inhabitants. Its three largest towns are Broome, Derby and Kununurra.

The Kimberley is a rugged and varied sandstone landscape. It consists of a number of steep-sided mountain ranges, intersected by sandstone and limestone gorges and steep ridges. Their surfaces are barren, with the monsoons having washed away much of the soil.

The southern area of the Kimberley is flatter with tropical grassland.

The Ord and Fitzroy River valleys have relatively useable soil. The southern flatter area is used for cattle ranching. Elsewhere, the mountains of the Kimberley have such steep surfaces that travel and agricultural activity are difficult.

Climate

The Kimberley has a tropical monsoon climate, with the vast majority of rain occurring during the wet season (November-April).

The Kimberley is a very hot area. Just before the rains break, the mean maximum temperatures range from 37 °C (99 °F) on the coast to 40 °C (104 °F) in the Halls Creek area.

Geology

In the Devonian Period the Kimberleys were under the sea with a barrier reef system that looked similar today's Great Barrier Reef. Remains of this reef may be seen today in the Napier Range and the Ningbing Range; some geological features formed in that period include Geikie Gorge, Tunnel Creek and Windjana Gorge.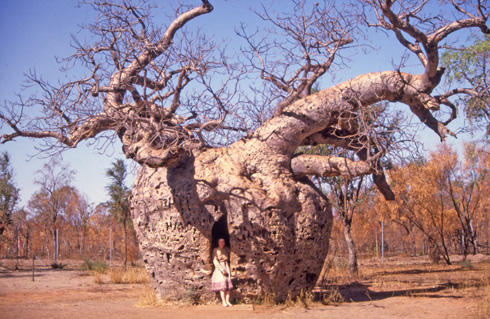 The famous boab (or baobab) Prison Tree, 7 km south of Derby, in the Kimberley area of Western Australia. The tree is said to have been used as a temporary lock up in times gone by.
(Photo: Anne Dollin.)



Flora and Fauna

Large areas of the Kimberley are covered by savannah woodland, featuring bloodwood trees, boab trees, Darwin stringbarks eucalypts, and Darwin woollybutt eucalypts.

Some areas have pindan wooded grassland; yet others have tropical dry broadleaf forests.
There are also some mangroves in the river estuaries of flatter areas.

Fauna includes the large saltwater crocodile and many birds species, including the channel-billed cuckoo, Pacific koel, and purple-crowned fairywren.

The sandstone gorges of the northern Kimberley have many endemic species, such as purple-crowned fairywren, the Gouldian Finch Gouldian, and a large number of frog species.

The gorges of central Kimberley have many bat colonies. Large populations of shorebirds are found in the Ord estuary, Eighty-Mile Beach and Roebuck Bay. Off the Kimberley coast are a number of islands which are home to birds and turtles.

Conservation, Tourism

While the Kimberley has not experience large-scale landscape clearance (except for the Ord Valley), the area is suffering from over a century of cattle raising, introduced weeds, feral cats and loss of Aboriginal environmental care (such as burning off of grassland).

Protection is now being increased with a lot of national parks being declared, such as the Drysdale River, Geikie Gorge, Keep River, Mirima, Mitchell River, Point Coulomb, Purnululu, Tunnel Creek, Windjana Gorge and Wolfe Creek Meteorite Crater National Parks.

Another important conservation area is the Prince Regent Nature Reserve.

Tourism has been developed, with important destinations including Lake Argyle, the Bungle Bungles (inside the Purnululu National Park), Gibb River Road, Horizontal Falls, and Cape Leveque.

Economy and Industries

These days, Kimberley's industries include: pearling in Broome; diamonds from the Lake Argyle and Ellendale mines; oil, zinc, lead and nickel mining; agricultural production in the Ord River Irrigation Area; barramundi from Lake Argyle and other fish from the Kimberley coasts; and Aboriginal artworks (including works from internationally-known artists Paddy Bedford and Freddy Timms).

Cattle farming on the pastoral leases has long been an economic activity in the Kimberley, with such famous stations (cattle ranches) as: Anna Plains, Argyle Downs, Bohemia Downs, Drysdale River Station, Fossil Downs, Home Valley Station, Ivanhoe Station, Louisa Downs, Mornington Station, Noonkanbah Station, and Wallal Downs.


Share this page:





Author: David Paul Wagner
(David Paul Wagner on Google+)