Australia For Visitors > Melbourne > Free Activities for Families in Melbourne
Melbourne - Free Activities for Families



Share this page:

8 Free activities for families in Melbourne

Can you take your family out in Melbourne and not spend a dollar? Get dressed comfortably, fill up your water bottle and head off for the Queen Victoria Market, your first stop on your tour around Melbourne without spending money...

1. Queen Victoria Market

Corner of Victoria and Elizabeth Streets
Melbourne, Victoria, 3000
Tel. (03) 9320 5822

Since opening in 1878, the Queen Victoria Market, a huge open-air market offering all sorts of fresh produce (including meat, fruit and vegetables) and all kinds of merchant items, including Australia items and souvenirs. All bargain priced, of course.

Buskers and other street entertainers add to the atmosphere.

The Queen Victoria Market occupies 7 hectares of land and is easy to reach by tram or by train (it is closed to Melbourne Central Railway Station and Flagstaff Station).


It is open on Tuesday (6am-2pm), Thursday (6am-2pm), Friday (6am-5pm), Saturday (6am-3pm) and Sunday (9am-4pm), and is closed on public holidays.


From the Queen Victoria Market, it is a quick ride by the free City Circle Tram to the Flinders Street Railway Station...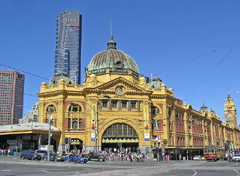 Flinders Street Railway Station



2. Flinders Street Station

Corner of Flinders and Swanson Streets
Melbourne VIC 3000

The Flinders Street Railway Station is open every day of the year. Admission is free.

It is Melbourne's busiest railway station with over 100,000 commuters passing through the station every day.

But it is also one of Melbourne's great cultural icons, dating from the Edwardian (pre-World War I) era. Built in 1905-10, the station stretches for more than a city block along Flinders Street. Its magnificent Edwardian baroque design includes impressive grand archways and an immense ballroom. It also features domed clock tower, and beautiful red brick and cream-colored stucco walls, and its immense bulk and presence dominate the Melbourne CBD's southern boundary.


The station is a popular meeting place. Melburnians often say simply "I'll meet you under the clocks" and "I'll meet you on the steps", which refer to the row of arrival and departure clocks and the wide staircase near the main entrance of Flinders Street Station.

From this station, you just cross the street to Federation Square and the Ian Potter Centre...

3. Ian Potter Centre: NGV Australia

Federation Square
Cnr. Russell and Flinders Streets
Melbourne 3000
Tel. (03) 8620 2222

The Ian Potter Centre: NGV [National Gallery Victoria] Australia hosts the biggest collection in the world of Australian art that is on permanent display.

The Centre has twenty galleries with excellent Australian Indigenous (Aboriginal) and non-Indigenous art dating from the colonial period (early 1800s) through to the present day.

Well-known works on display include "The Pioneer" (1904) (by Frederick McCubbin) and "Shearing the Rams" (1890) (by Tom Roberts). Other famous artists whose works can be seen include Arthur Boyd, Sidney Nolan, Margaret Preston, Arthur Streeton, Albert Tucker and Fred Williams.

Indigenous artists whose works you can see include William Barak and Emily Kngwarreye.

Entry to the Ian Potter Centre is free. You can visit every day (except Monday) 10am-5pm.

A short walk across Federation Square will bring you to the Australian Centre for the Moving Image...





4. Australian Centre for the Moving Image

Federation Square
Melbourne VIC 3000
Tel. (03) 03 8663 2200

The Australian Centre for the Moving Image (ACMI) is a place where you can explore the world of film, television and digital culture.

It houses two multi-format cinemas and the largest dedicated screen gallery in the world.

Entry to many of the events and ever-changing exhibits is free.

Some of the free permanent exhibits include Screen Worlds, where you can see "rarely-seen fottage, fascinating objects and interactive displays" amd go on a free Screen Worlds Orientation Tour (daily, 11am and 2pm).

You can also have a snack or meal in the ACMI Lounge and browse through the ACMI Shop with its large range of screen-related DVDs, books, games, cards and other items (great for gifts).

Now take a walk or tram ride across the Yarra River and down St Kilda Road to the National Gallery of Victoria - International...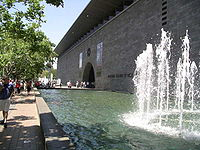 National Gallery of Australia - International



5. National Gallery of Victoria - International

180 St Kilda Road
Southbank, Melbourne VIC 3000
Tel. (03) 8620 2222

The National Gallery of Victoria [NGV] - International is open daily (except on Tuesdays) from 10am to 5pm.

Its large collections, originally funded in part by the profits from the 19th century Victorian gold rushes, hold over 65,000 works of art.

These include works by the old masters (such as Bernini, Rembrandt, Rubens, Tiepolo, Tintoretto and Veronese) and modern masters.

Its collections also include textiles, photography, fashion and Indigenous (Aboriginal) art, as well as ancient Egyptian artefacts and ancient Greek vases.

The NGV - International is housed inside magificent building with a waterwall and a stained glass ceiling by Leonard French.

Feel like break outdoors? Stroll along St Kilda Road for a few minutes and you will come to the Royal Botanic Gardens - Melbourne...

6. Royal Botanic Gardens

Birdwood Avenue
South Yarra VIC 3141
Tel. (03) 9252 2300

Located on the south bank of the Yarra River, the Royal Botanic Gardens contain 38 hectares of beautifully landscaped gardens with over 50,000 plants from Australia and overseas.

Entry is free and you will be able to enjoy a pleasant walk amongst Australian native plant and traditional European style gardens, and view the Ornamental Lake, the Nympheas Lily Lake, the National Herbarium of Victoria, the Old Melbourne Observatory, the Water Conservatorium Garden and the Australian Rainforest Walk.

Opening hours are 7.30am to sunset daily (365 days a year).

A five minute walk from the Royal Botanic Gardens is the Shrine of Remembrance...




Shrine of Remembrance



7. Shrine of Remembrance

Birdwood Avenue
Melbourne VIC 3004
Tel. (03) 9661 8100

The Shrine of Remembrance is a large war memorial, originally built to commemorate the service of men and women of Victoria in the First World War. It now commemorates the service of all Australians who have served Australia's wars over the years.

It was built in the classical Greek style. Inside the inner sanctuary is a marble Stone of Remembrance, on which is inscribed "Greater love hath no man" (based on the Biblical verse "Greater love hath no man than this, that a man may lay down his life for his friends").

Beneath the sanctuary is a crypt (tomb) with a bronze statue of a father and son, representing the two generations who served in World Wars I and II.

Take the tram down to St Kilda to explore some of Melbourne's beaches....

8. Melbourne's Beaches

Melbourne has a number of attractive beaches around the edge of Port Phillip Bay, notably St Kilda Beach (with its famous Pier) and Brighton Beach (with its quaint colored bathing boxes).

Further afield -- along the Mornington Peninsula in the east and along the Great Ocean Road in the west -- are some excellent surfing beaches.


Share this page:





Author: David Paul Wagner
(David Paul Wagner on Google+)