Share this page:

Mudgee (which originally meant "nest in the hills" in the local Aboriginal language) is an attractive town nestled in the Cudgegong Valley, located between foothills of the Great Dividing Range.

It was settled by European settlers in the 1820s. During and after the goldrush of the 1850s which occurred in the areas near Mudgee, the European population increased and many buildings were constructed including several pubs, churches, the town hall, several banks, and a mechanics' institute.

Interestingly the broad streets of Mudgee were laid out in 1823 in a grid design by the surveyor Robert Hoddle. The Mudgee grid design was so successful that Hoddle used it again to lay out the streets of Melbourne, Victoria in 1837.

The oldest of the many historic buildings that remain in Mudgee is the St. Mary's Roman Catholic Church (built in 1852-1911). The church includes some slabs from the original church on the site before 1852. The design is as follows: Gothic exterior, Byzantine interior. An interesting feature is its octagonal (eight-sided) tower, topped by a spire. The church is thought to have been designed by Edward Gell.

The beautiful old Mudgee Railway Station (designed by John Whitton and built 1884) is located on Inglis Street and features delicate cast-iron decorative lacework and a waiting room constructed of cedar. It is no longer used as a railway station (Countrylink operates a bus service to Mudgee instead) and the building now hosts an interesting craft center instead.

Mudgee Post Office (1862), a dazzling white building, was built of stuccoed brick following a design by NSW Colonial Architect Alexander Dawson.

Lovejoy House (built 1865) was originally a bank. It was later used as a restaurant and tearoom. Currently is occupied by a jewelry workshop.

Other important historical buildings from the Victorian and Edwardian eras were: Public School (1856-57); Police Station and stables (circa 1860); Court House (1861); Town Hall (c. 1860-65); Mechanics' Institute (c. 1860-65); Burrundulla (circa 1865); and Havilah Property (1870) and Chapel (1905).

Another Mudgee historical and architectural gem (but from a later period) is the Regent Theatre that was built in 1935 and was tastefully renovated in 2009.

So many old buildings survive in certain streets (such as Market Street) that you actually have whole historic streetscapes.

Here are some pictures of Mudgee and of those 19th century buildings which still survive in Mudgee:




Market Street, Mudgee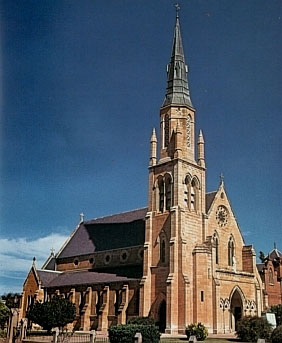 St. Mary's Roman Catholic Church, Mudgee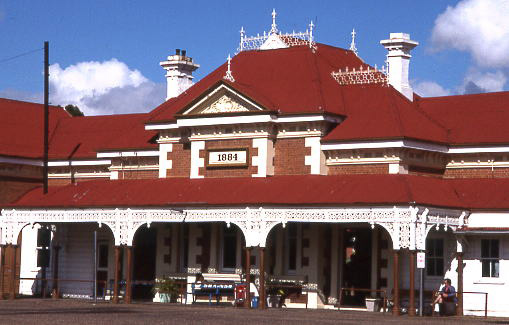 Mudgee Railway Station



If you are a history buff, you might like to visit the Colonial Inn Museum (open weekends and public holidays).

Robertson Park is a pretty park on Market Street. It was the site of the town's first market. It also features a beautiful white rotunda (built 1903).

Lawson Park, beside the peaceful Cudgegong River, is a grassed area with magnificent trees, BBQ and picnic areas and a children's playground. Its name commemorates Mudgee's association with Henry Lawson, the famous Australian poet and short story writer whose birth was registered in Mudgee, who went to school there and lived in the area until he was 15. Lawson Park has a small Olympic Pool and a weir.

Some 14 km to the west of Mudgee is the Cudgegong River Park. This park is located on the banks of the Burrendong Dam and offers excellent fishing (golden and silver perch, Murray cod, catfish, redfin), boating and other water sports. To the east of Mudgee is the Windamere Dam, a haven for water sports, fishing (golden and silver perch, Murray cod) and camping.





These days Mudgee has become renowned for its wines, its honey, and its gourmet foods. Many affluent Sydneysiders come up for weekend getaways. There are are over 30 vineyards in the Mudgee area. Some of the Mudgee's better-known winemakers include Montrose, Craigmoor, Huntington, and Poet's Corner.

There is a Days of Wine and Roses Festival in September/October every year.

Other annual festivals in Mudgee are the Mudfest International Short Film Festival (March) and the Huntington Music Festival (December).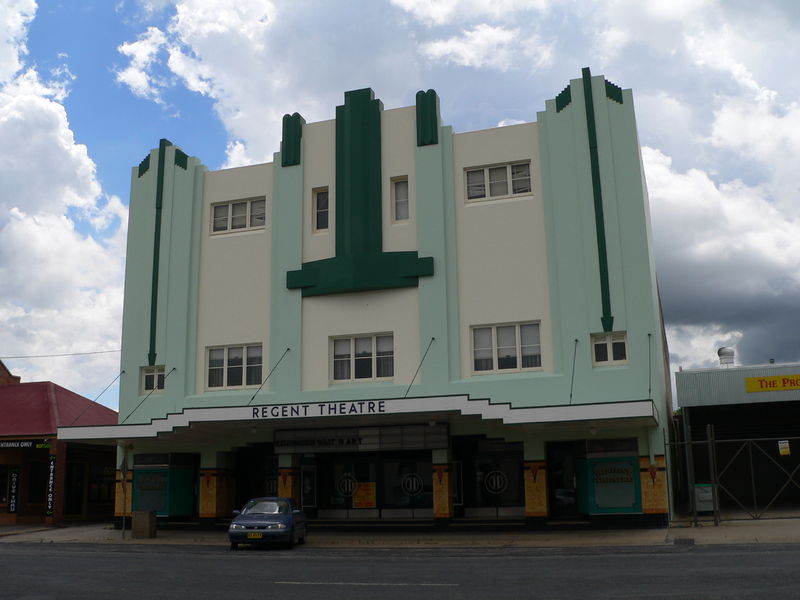 The art deco style Regent Theatre, Mudgee.