Share this page:

The Newcastle area was first discovered by Europeans in 1797 when Lt. John Shortland was sent in search of a number of escaped convicts who had taken over the HMS Cumberland while at sea.

Shortland described the area as having "a very fine river" which could serve as a deep-water port and which had excellent coal resources. The town on Newcastle would be built on that river (the Hunter River) and coal began to be mined in the nearby Hunter River Valley.

From 1804 Newcastle was used as a place to house difficult convicts -- the ones that Sydney could not handle. Newcastle was a tough place for convicts who were sent to dig in the coalmines there and became known as the "hell of New South Wales".

Coal would be brought in from the nearby Hunter River Valley to the port of Newcastle and then shipped off to other parts of Australia and the world.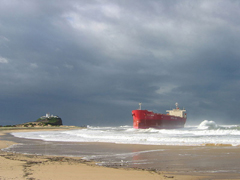 The MV Pasha Bulker stranded on Nobbys Beach, Newcastle, NSW, in 2007



Newcastle became an industrial town. A steel industry was developed there. Iron would be shipped in from other parts of Australia and transformed into steel at Newcastle's steel mills, the largest of which was run by BHP (Broken Hill Pty. Ltd.). Production of steel ended in 2000.

In 1989 Newcastle experienced Australia's worst ever recorded earthquake. A number of buildings (such as the Newcastle Workers' Club) were destroyed and others (including the George Hotel in the CBD) were so badly damaged they had to be demolished. Thirteen people were killed.





These days Newcastle is a great place to visit with green, leafy streets and and great beaches.

The main beach, Newcastle Beach, is located just a short walk from the CBD. At its northern end, it has a beautiful saltwater Ocean Baths, designed in the Art Deco style.

Just north of Newcastle Beach is the uncrowded Nobbys Beach, overlooked by Fort Scratchley with its military and maritime museum. Nearby is Nobbys Head and its 19th century lighthouse guarding the entrance to the Hunter River.

South of Newcastle Beach is a rocky area where you will find the Bogie Hole, a swimming hole cut into the rock by the convicts in the early 19th century for the private use of the Commandant, Major Morriset.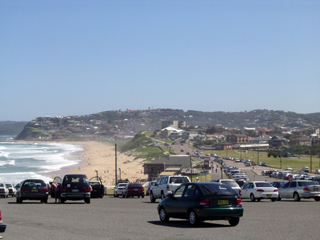 Bar Beach, south of the Newcastle CBD, is a popular swimming and surfing beach



Further on you will find Susan Gilmore Beach, Bar Beach which is floodlit at night, and Merewether Beach with two large ocean swimming holes.

Take the ferry from the Queen's Wharf (just by the CBD) and you will cross the Hunter River in a couple of minutes to Stockton. Stockton has a fantastic long beach, complete with amazingly high sandunes, which are well worth exploring.

Back in Newcastle you can see some great 19th century architecture, including whole streetscapes of Victorian era terraces, as well as Customs House and the Paymaster's House.

Also worth visiting are the Newcastle Regional Museum, the Newcastle Regional Art Gallery, Blackbutt Reserve and the Wetlands Centre.


Share this page:





Author: David Paul Wagner
(David Paul Wagner on Google+)