Australia For Visitors > Rockhampton, QLD
Rockhampton
Queensland



Share this page:

Rockhampton is a small city at the southern end of the tropics in Queensland.

Nicknamed "Rocky" by the local residents, Rockhampton is located on the Fitzroy River, some 40 km inland from the coast (the Capricorn Coast).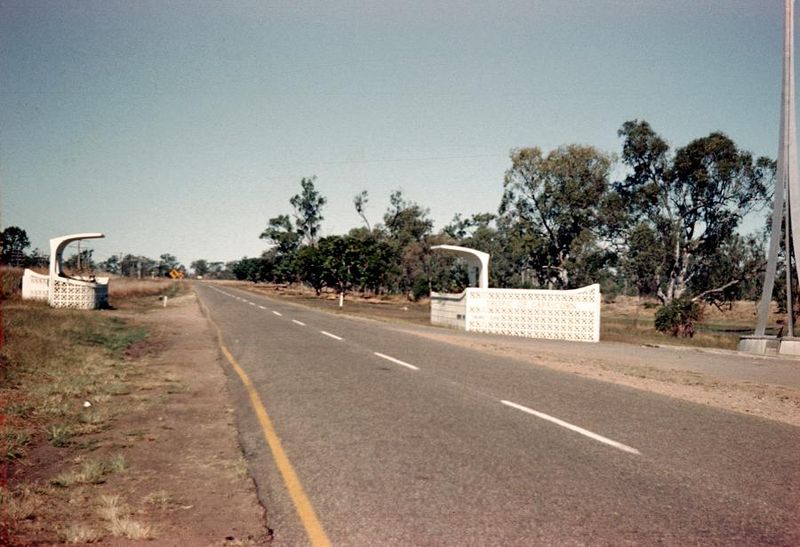 The Tropical Marker, which marks the location of the Tropic of Capricorn, just south of Rockhampton



A Little History

The city was founded in 1853-55. The area experienced a small-scale goldrush in 1858 which yielded little gold for the miners who were mostly left stranded and broke at a depot at nearby Mt. Archer.

Soon afterwards Rockhampton's fortunes began to look up with the rise of the cattle industry in the surrounding area and throughout central Queensland.

In addition, open-cut gold and copper mines at Mt. Morgan, 40 km from Rockhampton, produced a steady stream of wealth.

Rockhampton is still known as the "Beef Capital of Australia" -- with a third of Queensland's cattle and Australia's biggest abattoirs being in the area. It is also the commercial and adminstrative hub of central Queensland and is home to one of the five campuses of Central Queensland University.

Rockhampton's income from mining has, however, ended with the closing of Mt Morgan's mines in 1981.




Close up photograph of the Tropical Marker, which marks the location of the Tropic of Capricorn, just south of Rockhampton



What to See in Rockhampton

A popular stop for tourists is the Tropical Marker (or the Spire), a monument which marks the location of the Tropic of Capricorn (latitude 23 degrees 26' 30").

This monument is located 3 km south of the city center. Tourists often take photos of themselves there, stradding the Tropic of Capricorn, with one foot in the moderate zone and the other foot in the tropics!

A number of attractive historic sandstone buildings with iron lattice work -- which date from the 1890s when money was pouring in from the cattle industry and Mt. Morgan's mines -- may be seen beside the Fitzroy River in Quay Street.

The Dreamtime Cultural Centre is an interesting display center for the Aboriginal (indigenous) heritage of central Queensland. It is open daily from 10 am to 3.3.0 pm with tours available at 11 am and 2 pm.

The Botanic Gardens were established in 1869, cover 40 hectares, and feature all sorts of tropical plants, including palms, as well as a small zoo.

The Cliff Kershaw Gardens, just north of the Fitzroy River, is another botanic garden and has an excellent selection of native plants.

The Rockhampton Art Gallery is one of Queensland's best provincial art galleries.

Around Rockhampton

Not far from Rockhampton, you can visit the Capricorn Caverns (limestone caves, about 26 km from Rockhampton); Mt. Morgan (38 km out, with a rich mining history and losts of heritage buildings and the Mt Morgan Historical Museum to see); and the Koorana Crocodile Farm (near Emu Park).

"Rocky" is also the jumping off point for those who wish to visit Great Keppel Island and another 17 islands around the Keppel Bay area -- all popular destinations. Access is by boat from Rosslyn Bay, 8 km south of Yeppoon (40 km northeast of Rockhampton), or by air from Rockhampton.


Share this page:


Author: David Paul Wagner
(David Paul Wagner on Google+)