Australia For Visitors > Victorian Alps, VIC
Victorian Alps
Victoria



Share this page:

The Victorian Alps are mountain ranges in eastern Victoria, Australia. They are part of the Australian Alps (along with the Brindabella Ranges in the Australian Capital Territory and the Snowy Mountains in New South Wales) and also part of the Great Dividing Range which stretches from central Queensland down to central Victoria.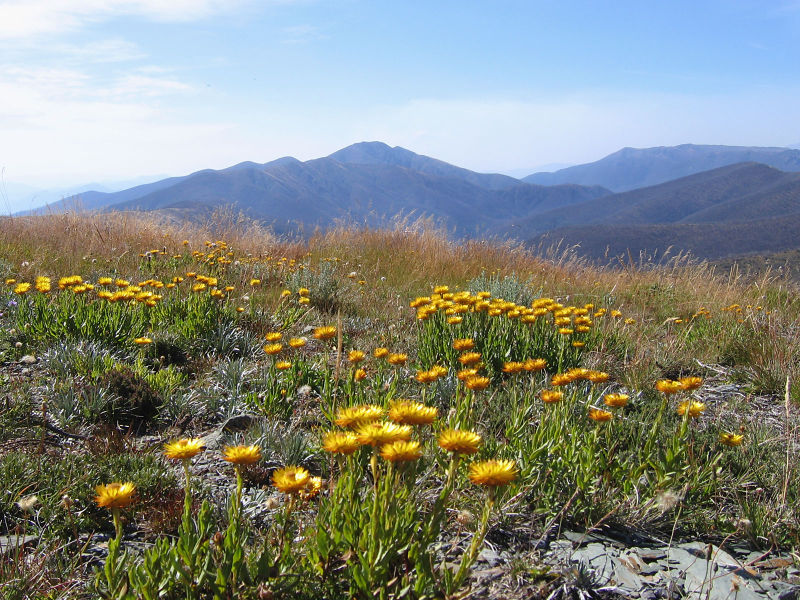 A view of the Victorian Alps, showing beautiful wildflowers (everlastings, or Xerochrysum subondulatum) in bloom on Mount Hotham, and looking out towards Mount Feathertop. The peaks of both of these mountains are covered by snow in winter.

Photo: John O'Neill.



The hills, mountains and plateaus of the Victorian Alps have a number of rivers and streams which run eastward to empty into the Pacific Ocean and other rivers and streams which run inland and empty finally into the Murray River.

The peaks of the Victorian Alps are periodically covered with deep snow. As a result a number of ski resorts have been built in these mountains.

A large part of the Victorian Alps has been protected by the proclamation of national parks in the region, such as the Alpine National Park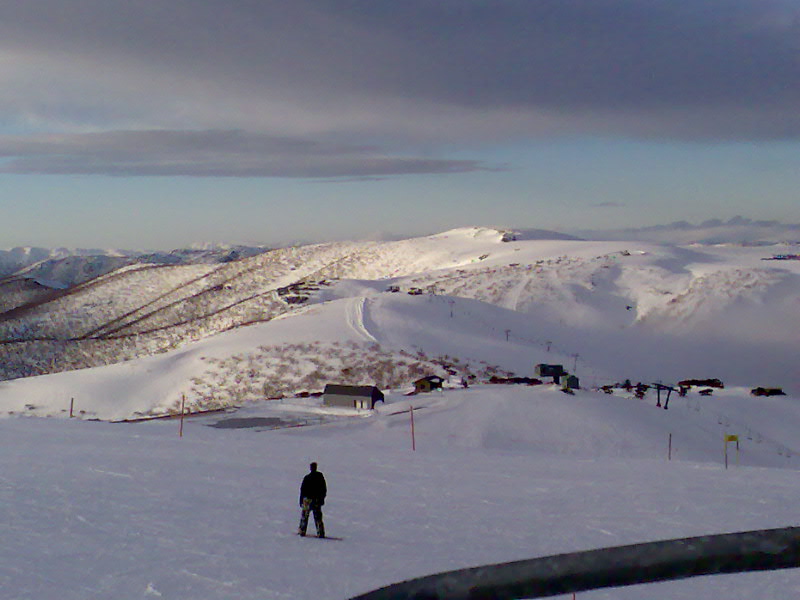 Mt Hotham covered by snow in winter. Photo taken from the Summit Chairlife in 2007.

Photo: Giggy.



Alpine National Park

The Alpine National Park includes Mt. Bogong, the highest place in Victoria, and the associated Bogong High Plains with their subalpine woodland and grassland, and the nearby ski-resort towns of Mount Hotham and Halls Creek.

Visitors to the Alpine National Park come to enjoy cool, subalpine weather and magnificent mountain scenery. They can also participate in a range of sports including bushwalking, abseiling, rock climbing, MBK sports (mountain bike riding), four wheel driving, fishing, and hunting.

Flora of the Park include shrubs, grasses and herbs (in the alpine zone, that is, above 1800 meters), snow gums, grasslands, and sphagnum moss (in the sub-alpine zone, below the alpine zone), trees such as the alpine ash, mountain ash, myrtle beech, and lilly pilly, with a ground layer of grasses, lilies and ferns (in the wetter southern fall of the montane zone, beneath the sub-alpine zone) and eucaplyts such as boxes, stringybarks and peppermints (in the dryer northern fall of the montane zone, beneath the sub-alpine zone).

Fauna of the Alpine National Park include many bird and mammal species and also, unfortunately, many feral pigs, cattle and horses.




Ridgeback Hut, Victorian Alps

Photo: SYPulau.



Cattle grazing on the High Plains during summer has long been allowed but, due to the damage caused by cattle on the ecosystem, permission for cattle to enter the area was progressively phased out, with an announcement made by the Victorian Government in 2004 that cattle would be banned from all the National Park but allowed in nearby State Forests. This decision caused much angst among graziers. Starting in 2011 limited numbers of cattle have been allowed to enter fenced off areas of the National Park.

In 2008 the Alpine National Park was added to the Australian National Heritage List.

The Alpine National Park also includes Victoria's second highest mountain peak, Mt Feathertop (1922 meters, or 6306 feet). Normally covered with snow from June to September each year, and close to the ski resort town of Hotham, Mt Feathertop is a popular skiing destination, especially for back country skiing.

The Great Alpine Road is a country tourist road that crosses the Alpine National Park. It begins at Wangaratta in the west and ends at Bairnsdale in the east. It passes over mountains, through valleys and forests, and goes beside rivers, farms and vineyards. It is 303 miles long and is becoming a mountain tourist attraction which in many ways matches the splendour of the Great Ocean Road along the coast of southwestern Victoria.

The Australian Alps Walking Track crosses the Alpine National Park and extends as far north as Canberra, ACT.

Other National Parks in the Victorian Alps

Other national parks in the Victorian Alps include Baw Baw National Park and Mount Buffalo National Park.

Baw Baw National Park

Mount Buffalo National Park


Share this page:





Author: David Paul Wagner
(David Paul Wagner on Google+)