Share this page:

Watsons Bay is a Sydney suburb situated at the end of the South Head Reserve (South Head and North Head are two high and rocky headlands located on the south and north sides of the entrance to Sydney Harbour).

Visitors can walk up to The Gap (the clifftops near South Head) and enjoy views of the South Pacific Ocean to the east and of North Head and Manly in the distance to the north.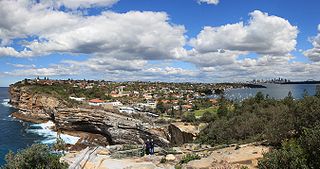 The Gap, Watsons Bay, with the Pacific Ocean (left), the Harbour (right) and the CBD (in the far distance on the right).

Photo: Adam.J.W.C.



There is a popular coastal walk along the top of the cliffs from The Gap around to The Gap Park. Most of the area has native vegetation.

They can also enjoy a seafood meal at Doyle's Restaurant on the sheltered bay (called Watsons Bay, just like the suburb) that faces part of Sydney Harbour to the west.

Other nearby harbour-facing beaches in the suburb include Camp Cove and Lady Jane Beach.

Lovers of history can view many heritage buildings from the 19th and 20th centuries, such as the Macquarie Lighthouse (early 19th century), St Peter's Anglican Church (1864), the former marine station onced used by Nicholas Miklouho-Maclay (1885), and Our Lady Star of the Sea Church (1909-10).





History

The original inhabitants of the area now known as Watsons Bay were the Aborigines of the Cadigal tribe. Over thousands of years they lived by fishing and collecting shellfish from the waters and shores of Sydney Harbour and the Pacific Ocean.

On 20 August 1857 a maritime disaster occurred when during a large gale a sailing ship called the Dunbar, was shipwrecked on the rocks below the area known as The Gap. 121 people were killed. The Dunbar had been trying to enter Sydney Harbour between the North and South Heads but it is speculated that the captain had mistaken the bay at the base of The Gap for the entrance it was seeking.

In 1930 the anchor of the Dunbar was placed in The Gap Park at Watsons Bay where it may be viewed today.

In 1942 with the opening of the Second World War in the Pacific, there was a huge anti-submarine boom net constructed across the entrance of Sydney Harbour. One end of the boom net was at Liangs Point, Watsons Bay. The boom net winch was also located there.

During the night of 31 May 1942 three Japanese midget submarines tried to enter Sydney Harbour. One of these submarines became entangled in the boom net and, after failing to free the submarine, its crew blew the submarine up, killing themselves in the process.





Share this page:


Author: David Paul Wagner
(David Paul Wagner on Google+)