Share this page:

The Whitsunday Islands are a group of islands off the central coast of Queensland. They are located between the towns of Bowen and Mackay, about 900 km north of Queensland's capital, Brisbane.

These islands were given their name by the British navigator, Captain James Cook, in June1770.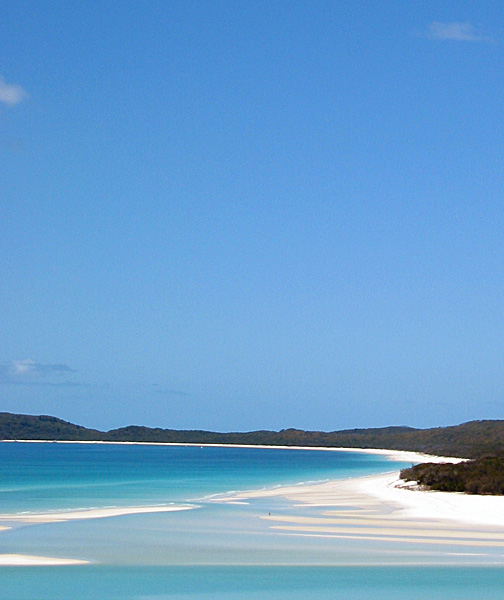 Whitehaven Beach on Whitsunday Island, the largest island in the Whitsunday Islands group.



The Whitsunday Islands are divided into four groups:

• the Whitsunday Group (which includes Whitsunday Island, the main island in the whole group, Hamilton Island, the main commercial center, Hayman Island, and Hook Island;

• the Lindeman Group (which includes Lindeman Island);

• the Molle Group (which includes Daydream Island, Denman Island, and South Molle Island); and

• the Northern Group (which includes Grassy Island).

Tourism

The Whitsunday Islands are a hugely popular tourist destination for both Australians and foreigners, who flock to see the Great Barrier Reef here. Around one-third of the people who visit the Great Barrier Reef head for the Whitsunday Islands section of the Reef. Over 700,000 tourists visited the Whitsunday Islands in 2008/09.

Yachting is also an ever-popular leisure activity in this area.

Some Important Islands in the Whitsundays

Looking at some of the individual islands in the area:

• Whitsunday Island : The attractions of this island include the dazzling white sand of Whitehaven Beach and Hill Inlet. Yachties find a secure anchorage at Cid Harbour. You can reach the island by boat from Airlie Beach and Shute Harbour on the mainland.

Flora includes sea grass beds and fauna includes the Unadorned Rock Wallaby.

• Hayman Island is a private island and includes a five-star luxury holiday and honeymoon resort built in the 1980s by Australian aviation tycoon, Sir Reginald Ansett.

The Great Barrier Reef Game Fish Angling Club was established here in 1935. It attracted many Australian and foreign fame fishing afficionados, including Zane Grey, the American novelist.

• Hamilton Island is the largest inhabited island in the Whitsunday Islands group. Every August the island puts on the Hamilton Island Race Week yachting festival, in which 150-200 yachts from Australasia compete in races around Hamilton and nearby islands. The week involves a lot of social events at the island resort and winds up with a huge beach party on Whitehaven Beach

The island was originally developed by Keith Williams in the 1980s. These days the Oatley family run most of the tourist operations on the island, which includes the five-star Beach Club resort. Other tourist facilities include a marina precinct, the Hamilton Island Yacht Club, and the Hamilton Island Golf Course.

A number of movies have been filmed on this island including Muriel's Wedding and Fool's Gold.

• Hook Island: Mostly contained within the confines of the Whitsunday Islands National Park and almost uninhabited, Hook Island has two sheltered inlets, the Nara and Macona Inlets, where much of the tourist fleet can be anchored, and a northern coast with colorful underwater corals which are very popular with scuba and snorkelling divers.

• Lindeman Island is part of the Lindeman Islands National Park and, from 1992, has been home to the only Club Med in Australia.

• South Molle Island: This resort island is part of Great Barrier Reef. 420 hectares of this island are protected by the Whitsunday Islands National Park. Almost 20 km of walking paths take the bushwalker to isolated bays and inlets (such as Sandy Bay) and to Mount Jeffreys.

South Molle Island's resort, known as Koala Adventure Island Resort, has its own nine-hole golf course and can accommodate up to 600 guests.


Share this page:





Author: David Paul Wagner
(David Paul Wagner on Google+)