Share this page:

Located in outback Queensland and right on the Tropic of Capricorn, Longreach is famous for its Stockman's Hall of Fame and for being the original home of Australia's international airline, Qantas.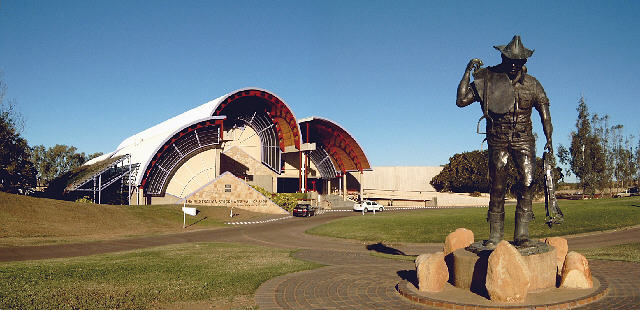 Stockman's Hall of Fame

Photo: Michael Rogers.



Stockman's Hall of Fame

"The Australian Stockman's Hall of Fame and Outback Heritage Centre" (to give it its full name) was built inthe 1980s as a tribute to Australia's early explorers and stockmen, and includes sections on Australia's pioneer women, on the Aboriginal stockmen, on the miners and on the travelling salesmen of the early days.

The Hall of Fame has numerous static, audiovisual and computer displays.

The Hall is housed in a distinctive building made of traditional materials put together using modern design concepts (a "series of corrugated iron half-pipes overlapping to form one long roof", according to M. Johnson et al.).

The Stockman's Hall of Fame was opened in 1988 with many well-known people attending, including Queen Elizabeth II of England.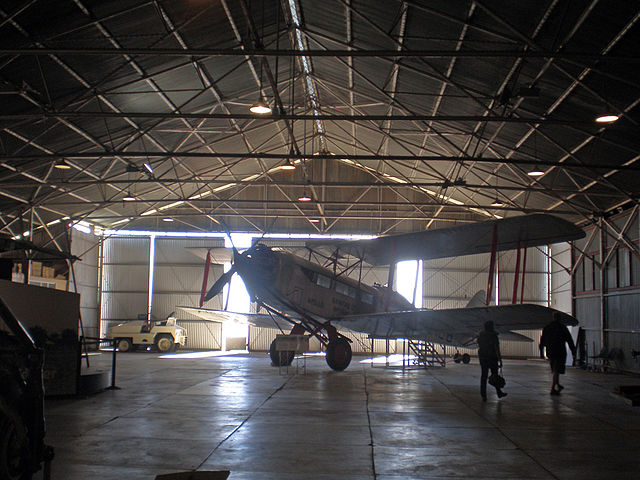 DH.61 Giant Moth (G-AUJB), in original Qantas hangar
at Longreach, Queensland, Australia.

Photo: Bauple58



Qantas

Longreach was one of the founding centres of Qantas, Australia's international and domestic airline.

The word Qantas is actually an acronym which stands for Queensland and Northern Territory's Aerial Service.

The idea for establishing Qantas came about when two former Royal Australian Flying Corps airmen, Hudson Fysh and Paul McGuiness, were travelling through Queensland preparing the route for the London to Melbourne Air Race. They saw the need for an airline to link Australia's remote outback settlements.

Qantas was registered as a company in Winton, Queensland, in November 1920 but soon afterwards the company headquarters moved to nearby Longreach where it remained until 1930. In that year it moved to Brisbane and in 1938 to Sydney.

The first scheduled air service was from Charleville, Queensland to Cloncurry, Queensland in November 1922 and ts first international air service was from Brisbane to Singapore in April 1935.

Qantas kept its offices in Longreach until after the Second World War. During that war U.S. Flying Fortresses were stationed there.

The original Qantas hangars are still in use at Longreach Airport. The Qantas Founders Outback Museum has been set up at the airport to commemorate Qantas's aviation history. Displays include a Boeing 747-200 (with the name "The City of Sydney") and Australia's first jet aircraft, a Boeing 707 (named "The City of Canberra").





The Town

Longreach is located in central Queensland about 700 km inland from Rockhampton on the coast and about 1200 km northwest of Brisbane.

The name Longreach derives from the "long reach" of the Thompson River where the town is located.

The streets of Longreach are named after species of birds. Streets running east-west are named after water birds (e.g. Duck, Pelican, Bustard, Swan, Stork) and streets running north-south are named after land birds (e.g. Eagle, Magpie, Galah, Parrot, Crane, Cassowary).

Longreach has several heritage-listed sites: the Qantas hangar, the former Longreach Powerhouse, the Longreach Railway Station, and the Longreach Ambulance Centre.

Futher items of interest:

- Captain Starlight
- Visits to Sheep Stations
- Events


Share this page:





Author: David Paul Wagner
(David Paul Wagner on Google+)